Private networks should be just that: private. But with today's sophisticated, persistent threats are your networks truly private?
In today's changing landscape more and more threats are emerging from a wider range of sources. From global-scale botnets to persistent targeted attacks it's becoming much harder to trust. Let Spectrum be your network partner to help keep your users safe and keep out those who don't belong.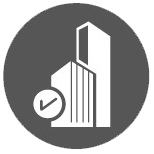 Network Security
Spectrum's Network Security services provide a managed solution that's scalable, customisable and quick to deploy. With 24x7 proactive availability and security monitoring and support you can rest easy knowing we've got your back. Making both physical and virtual appliances available means you get the performance and the flexibility to face the world's threats.
Our Network Security services are deployable anywhere, so you can take your configurations from on-prem to Spectrum IaaS to and out into the public cloud without having to worry about the costs associated with acquisition or training on new products.
Endless scalability lets you adapt as requirements change, both up for new threats and down for the quiet times.
Modern networks span across geographies and trust levels, with data flowing wider and further than it has before. Our next-generation perimeter security protects both your perimeter security and internal traffic, making sure trust levels are ensured. With features such as firewall, packet inspection and threat detection our Network Security services are built to evolve with the changing threat landscape and keep you safe from both known and unknown attacks.
Your users are connecting from a wider range of places as business becomes more mobile and more connected. Bringing these people into your network in a safe, secure and easy to use means is important and allows users to get on with doing their work without compromising your environments.
Our Remote User Access services are deployable anywhere, so you can take your configurations from on-prem to IaaS to public cloud without having to worry about the acquisition or training costs associate with new products. We set you up to succeed with secure-by-default configuration and AD integration to make managing your remote user needs easy.
Integrate with Spectrum's wider Network as a Service and Security as a Service offerings for a complete end-to-end managed network service, from your users through to your systems and onto the outer world.